#BossWomen Interview: Tanya Washington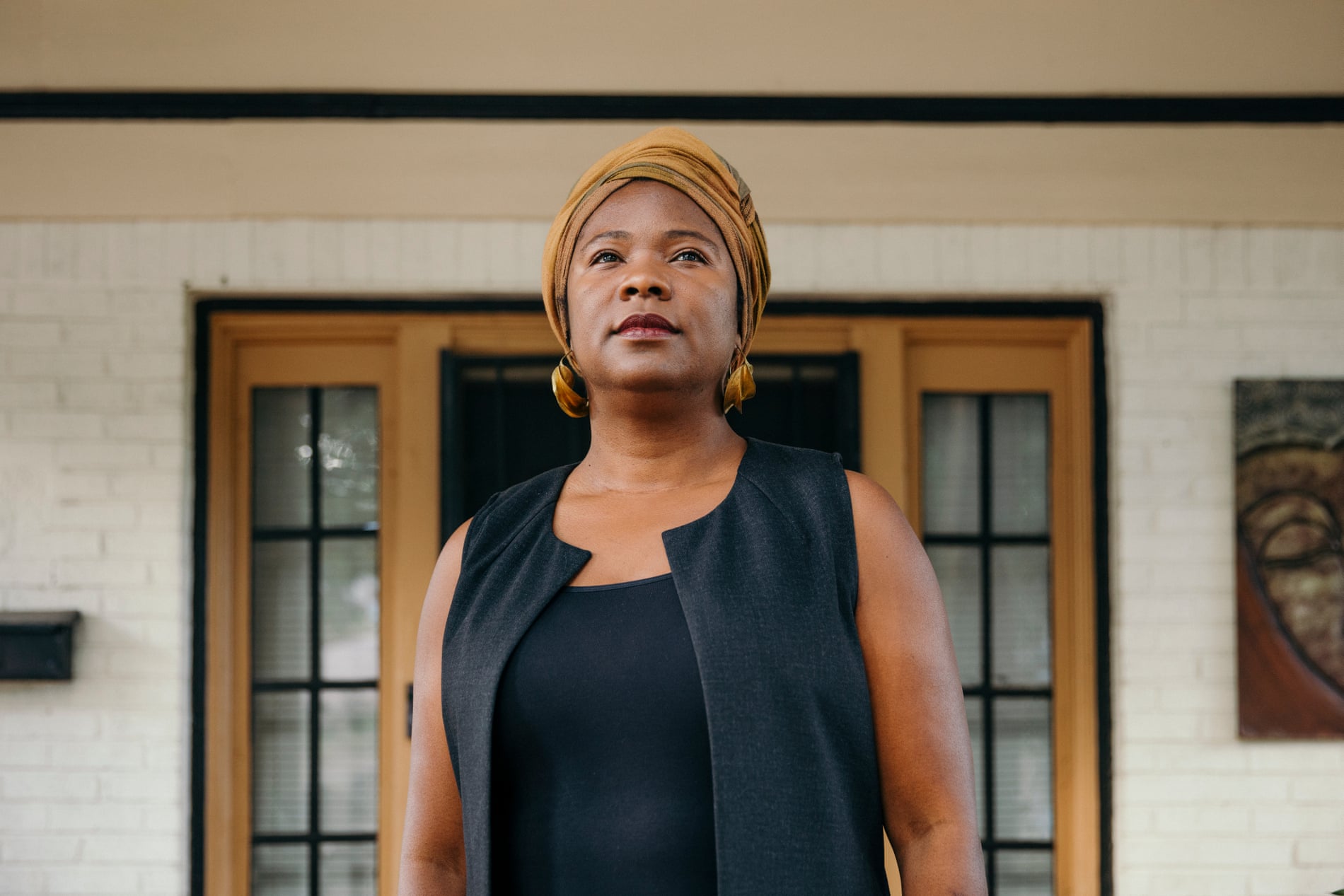 #BossWomen Interview:
Tanya Washington
We're continuing our #BossWomen spotlights in April with Tanya Washington, a professor of Law at Georgia State University and community activist in Atlanta. We sat down with Tanya to hear more about her journey of finding creativity and passion in the law, the power in trusting your instincts, and the importance of community in activism work.
Thanks for sitting down with us, Tanya! Let's kick off from the beginning: tell us about the early stages of your professional journey. What's your origin story?
I was born in Washington, D.C., and I come from a family of elementary level school teachers. I always knew I would be a teacher, but I wasn't sure at what level. After a very interesting debate assignment in 6th grade, I decided I wanted to be a lawyer. And I thought let me add that to the list because I also wanted to be a ballerina, an astronaut, and a pianist at the time [laughs]. While I was keenly aware of racial discrimination and how our society was responding to it, it never dawned on me that I couldn't do something because I was a girl. I grew up and was surrounded by such strong and powerful women; so I believed, women are the best, and everyone should want to be one! Thoughts about gender discrimination never crossed my mind until I went to college.
I attended James Madison University for my undergraduate degree. In my freshman year I already knew I really wanted to pursue law school, so I signed up to be a Political Science major. When I started taking political science courses, I hated my classes. I called my mom and told her I wanted to change my major to English, even though I was convinced there were not many jobs out there for English majors. She said, "but there are jobs out there for people who can analyze, think, and write. The best thing you can do is to always choose something you love." I've carried her words with me. If I don't love it, I'm not doing it.
So, I did change my major; I was a Creative Writing major with an emphasis in Poetry—which is as far away from Law as you can get. When I applied to Law School, I had a professor who I'd asked to write a recommendation letter tell me, "I think you should really reconsider applying to law school, I wouldn't want you to be disappointed by the outcome."
I was accepted into every school I applied to, and I sent a copy of my acceptance letters to that professor with a note saying, "thank you for your support." When we respond to challenges in the world, we need to do so in a way that leaves something for those who will come behind us so that they won't be dismissed. Never again I will let someone tell me no.
I attended University of Maryland Law School, and it was an amazing experience. I was very aware of the space I occupied—50 years before, I would not have been able to attend as a law student because of my race. With that great opportunity came great responsibility, and I took that responsibility very seriously. In my 3rd year of law school, I took the opportunity to study in South Africa. During my time there, I was asked to create justice outside of the confines of a constitution because that country was in the process of creating a new constitution. I was able to consult the constitutions of India, Germany, the US and of other African countries and to propose solutions without being restricted by "rules" that reflect certain values and hierarchies. The experience gave me the permission to think creatively about law, to consider the role of law as being responsive to the needs of people, and to revisit laws that do not serve humanity. I wrote in my law school application that the true value of the law lies in how it affects the human condition, what it does to and for people.
Since law school, your passion for studying law has taken you in different directions in the legal field. After graduating, you worked for Judge Bell, the associate judge of the Maryland Supreme Court. Following your experience working with Judge Bell, you continued to work in a larger law firm and transitioned into higher education to teach at the University of Maryland. You've been a Law Professor at Georgia State University for nearly 17 years. Now a tenured professor at GSU, you've taught and written on a wide range of legal areas, including Affirmative Action, the role of race in decision making, and same-sex adoption and marriage laws. In recent years, you've interacted with the legal system in a very different capacity, battling to keep your home from eminent domain.
Has your teaching approach shifted in response to your personal experience fighting for your home? If it has changed, how has the experience impacted your approach to teaching law?
The universe must have really wanted to activate me because it brought a challenge right to my doorstep! On the personal side, it's been painful. I've had to learn how to tell my story in a way that connects to other people, to illustrate that the fight for my home is not just about me. This is about a system that allows displacement to happen consistently to certain people, in certain neighborhoods. The experience has changed the way I teach, because it's important for my students to understand that we cannot assume that people are going to get justice. The cases that we are studying in class involve people who had enough resources for their cases to even be litigated and decided. For each one of these cases, there are one hundred cases that were never even filed.
One of the classes I currently teach a class on civil procedure which centers on the process of litigation. Earlier this year, I had an existential moment and asked myself "What am I teaching?" I'm supposed to teach the rules—the law—and, in a perfect system, if people follow these rules, the legal system will produce procedural justice. My class assumes that people will get justice and that our laws are designed to promote justice. This year, I started the course with a lesson about access to justice, because you have to have resources to even fight in the first place. In my case, I happen to have a few people who are willing to take a chance on me, and part of the reason they are willing to do so is because of my network, my professional experiences, and because I work as a Georgia State law professor. Most people don't have resources like that, and I'm still losing the battle. So, what does that say about the realistic chances for the average person who doesn't have access to resources, networks and privilege?
I wasn't a community activist, but I felt responsible to those around me. The fight for my home wasn't a conscious effort to connect with my neighbors; it happened while I was waging my own personal battle. But this fight requires community, and I was activated by the experience. It's something that I've come to appreciate. "Why me?" has evolved to "why not me?" I'm a law professor. I've read about and taught about gentrification, but I had never experienced its sting.
In the past few years, you've experienced a very personal form of community activism in the fight to keep your home in Peoplestown. Based on your experience, what insight can you offer from this process?
I've been at the epicenter of this fight — the fight for home and my community—and it continues. Apparently, this was all supposed to be happening, and I'm learning to embrace it and be grateful for it. It took a long time to get to this point and I spent a lot of energy resisting. I was in denial because I thought that this couldn't be happening because it's not "right". It has completely changed the trajectory of my life. Now, people are referring to me as a community activist. I find that complimentary, but it is not how I see myself. I see myself as someone who is defending her home with other people who are defending their homes. Plain and simple.
If you're going to be out there fighting, be way out where there are consequences if they come after you. I'm not going quietly. This is a fight that I plan to see to the very end. There's power in speaking the truth without expecting any particular outcome. Truth has power, like water. It will seep into the smallest of spaces. And all we have to do is be responsible of putting it out there. How it manifests is beyond our control, and all I can do is keep speaking the truth. I'm the beneficiary of people who spoke the truth and never lived to see how it has manifested. From that, I take a responsibility to do the same for future generations.
For those who want to do work around housing affordability and gentrification, I think you have to find a way to connect to the people who are experiencing gentrification. Go to the places where they are. Risk rejection, because there is a lot of cynicism and a lot of pain in those places. Get out of your comfort zone and be intentional about being uncomfortable. I had to be uncomfortable in order to do something different and advocate for change.
What personal and professional advice do you offer to women?
First, I would say don't believe the lie that women are less capable. That lie has power only if we internalize it. Whatever women need to do to affirm their own power, do it, and I find doing things that bring me joy affirming. If that's roller-skating or weighted hula-hooping—do it. There isn't a certain way to be a woman. You like staying at home and taking care of your kids? That's God's work, and it's hard raising another human being to not be a disaster in the world! We need that...we need both women and men who are willing to do that work.
Second, listen to your instincts! I think women have incredibly strong instincts, and it is a gift because we're capable of giving birth to children. Women have to have to good instincts because we feel responsible to and for other lives. We live in a society that doesn't necessarily value that. You can't explain the way you feel when you have a sense of something that defies explanation, so we suppress it. Fortunately, it doesn't ever go away, and hopefully we will have enough experiences when women can start to listen and trust our instincts. What my instincts are telling me now about my fight with the City of Atlanta is that win, lose, or draw, my fight in life is going to have a broader impact in society.
Third, whatever you choose to do, do it in the way that aligns with who you are as a woman. We do not need to be men to be powerful. We do not need to act like men to be effective. We have our own energy and our own ways of doing things, and that differs from woman to woman. Men feel inherently qualified, capable, and competent; they don't question themselves all the time, and they are not afraid to take chances. Women should just be ourselves—that's good enough! I believe everyone has her own path in life, just enjoy your path.